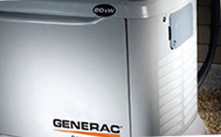 Bryant-Durham Services specializes in generator installation, maintenance, and repairs for residential generators in the Durham area. The extra-strong generators installed by our professional technicians will keep your home powered-up in times when your community's electrical grid is down. You can enjoy hot showers, cook a 7-course gourmet meal – and run your heat or AC on full blast! Dependable, unwavering electrical power will be at your fingertips.
When the power fails in your home, having a hardwired generator installed will instantly begin to keep your family safe and comfortable. You will have no need to:
Scramble around looking for flashlights and candles
Light the fire and gather blankets/radios
Worry that your home security system has been compromised
Break out the earplugs!
Untangle lengthy extension cords in a cold, dark garage
Mess around with smelly, dirty gas cans
Lug out a heavy portable generator that cannot possibly meet your electrical demands
A whole-house generator will kick on in hassle-free style, quietly operate for as long as you need it – and then automatically switch itself off when the power has been restored. As far as you will know, there's no such thing as a power outage! Bryant-Durham Services is proud to be a Generac generator sales and service provider. And of course, we also provide regularly scheduled routine maintenance checks for your generator.
The certified electricians at Bryant-Durham Services are genuinely concerned with providing you with optimal-quality whole-house generator installation services. We are committed to your comprehensive satisfaction and are proud to offer financing, subject to approved credit, for our customers. We know just how important electricity is for your family's safety – and efficient functioning.
We are available 24 hours a day, seven days every week to provide you with the best generator products and services available anywhere. Simply call our caring and friendly customer service reps today to discuss your options and schedule your whole-house generator installation appointment. Contact us or call (919) 383-9227.