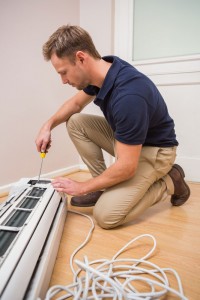 You need to be able to rely on your cooling system to keep your Raleigh-Durham home comfortable during the hot summer months. If you've noticed a warmer home or higher energy bills, it may be time to install a new air conditioner.
For systems that are getting older, no longer run efficiently, or need extensive (and expensive) repairs, home air conditioner replacement may be your best option. Choose Bryant-Durham Services to provide reliable service when you need it — we'll find the best AC replacement solution to meet your budget and home cooling needs.
Durham AC Installations & Replacements
If you're interested in updating and upgrading your home's cooling system, call us today! We offer the best brands and latest models of air conditioners and will help you find and enjoy a new system that meets all of your needs.
Here's how we do it:
Inspections & Diagnostics: One of our North Carolina HVAC technicians will inspect your system, troubleshoot, run diagnostics, and determine if you need a home AC replacement.
Choose the Right Home System: We help you choose the right system to meet your unique conditions and your specific needs. Whether you're looking for an affordable option or a new air conditioner with the latest control options and upgrades, we'll find the perfect fit for you.
Removal & Disposal: We take care to remove your old cooling system to ensure nothing gets damaged — and we dispose of all AC units properly.
AC Installation: Your Durham HVAC technician will install the new AC unit thoroughly checking that it runs correctly and is in perfect working order.
Our Durham HVAC installers can install thermostats, air quality systems, control units, air handlers, and other related systems.
Bryant-Durham Services: Trusted for Home AC Replacement & Installations
Since 1960, Bryant-Durham Services has provided the latest and greatest in home air conditioning technology and products. We replace AC units with new, high-tech systems that keep homes comfortable and cool.
Contact us or call us today at (919) 383-9227 to get a brand new home air conditioning system installed! We'll deliver outstanding home AC installations, all with the personal care and attention our customers have come to expect from us.