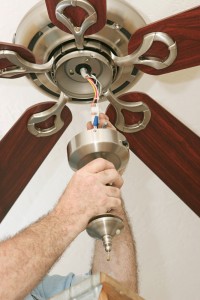 Let the ceiling fan and lighting installation specialists from Bryant-Durham Services brighten your life with all types of residential and commercial lighting systems and ceiling fans. Durham, Raleigh, and the surrounding areas all choose Bryant-Durham Services as the leading lighting systems service provider in the Triangle. We've been number one for more than 50 years and have no plans of going anywhere! Our business thrives on providing professionalism, value, quality, and excellent customer service.
Our Lighting Installation Services Include:
General Lighting Systems
Overall area illumination patterns, also called ambient lighting
Provide a comfortable level of brightness
Can include chandeliers, recessed lights, track lights, ceiling lights, wall-mounted lights, and even lanterns
Task Lighting illuminates specific actions including:
Reading
Sewing
Homework
Games
Cooking
Hobbies
Much more…
Accent Lighting
Makes any area visually interesting
Integrate decorating themes seamlessly
Spotlight portraits or paintings
Uses three times as much lighting in the central focal area as compared to the surrounding ambient lighting
Normally utilizes track, recessed, or wall-mounted lights.
And of course, the certified electricians at Bryant-Durham Services are seasoned experts at installing and repairing your exterior lighting systems as well. There are so many interesting, innovative new products available for your consideration today. Call one of our friendly representatives at (919) 383-9227 to discuss all of the bright options that await you!
Raleigh-Durham, NC Ceiling Fan Installation
If you don't yet have a ceiling fan installed in your home, you're missing a prime opportunity to save money, save energy and increase comfort, season after season. Bryant-Durham Services has urged its customers to install ceiling fans for years. Why? The advantages of a professional ceiling fan installation include:
You can find a ceiling fan in a huge variety of styles, colors, and sizes to complement any décor.
Ceiling fans reduce energy costs by recirculating cooler air in the summer months to help you feel up to 25% cooler and warmer air in the winter months. Your HVAC system has to work less, thereby saving you money.
A ceiling fan costs only pennies per day to operate itself, even when used 24 hours a day.
An outdoor ceiling fan not only helps you feel cooler, but it also helps keep mosquitoes and other biting insects at bay, day and night.
Many ceiling fans come with multiple light fixtures, giving you the option of more ample lighting in a room vs. a standard dome light.
Ceiling Fan Install In Durham and Raleigh, NC
Need a ceiling fan or light installed in your Raleigh home? No problem! A ceiling fan installation specialist can save you the hassle of climbing ladders, decoding wiring instructions, and trying to correct wobbly, unbalanced ceiling fans. From one ceiling fan to multiple ceiling fan installations in every room of the house, one call does it all—usually in one day!
A Ceiling Fan Install Makes A Great Gift
Have a friend or loved one who needs to have their ceiling fan installed but you don't have the time to do it yourself? Let Bryant-Durham Services handle it for you! Whether it's an elderly relative who's unable to perform the climbing, wiring, and lifting necessary or a busy friend who simply doesn't have the time, we can perform the ceiling fan install and bill you directly! Contact us or call (919) 383-9227 today to schedule a professional ceiling fan installation!